Texas Muffin Wrap - Gingerbread Man (250 ctn) - Confoil
We are open for business during Covid lockdown 4 as an essential service.
Place your order or send an enquiry and we will respond as soon as we can.
Texas Muffin Wrap - Gingerbread Man (250 ctn) - Confoil.

Top out - variable
Top in - variable
Base - 60 mm
Height - 50 mm


Our beautifully formed parchment paper muffin wraps are available in a variety of sizes and shapes. While we offer standard colours, our muffin wraps can to be branded exactly as you wish by our inhouse designers, using state-of-the-art equipment.

Our parchment paper muffin wraps come beautifully formed and ready for you to bake directly in! This popular product is a real favourite for bakers, cafes and caterers and are fully printable, making branding a breeze.

Made from parchment paper, our muffin wraps are able to be recycled easily, making them a fantastic, environmentally responsible choice for baking

Suited for
' Cook Directly In
' Microwavable
' Ovenable
' Free-standing

Delivery 2-4 days
Eco-Friendly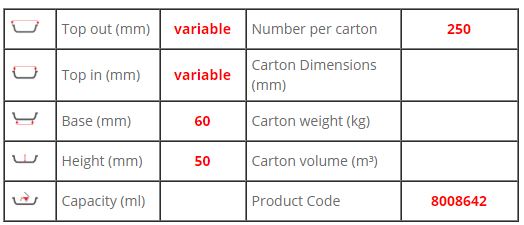 Contact Details
Request More Information
Details of the product above will be automatically included with your enquiry.