Paperboard Dualpak Small Deep Square Beige - Confoil
We are open for business during Covid lockdown 4 as an essential service.
Place your order or send an enquiry and we will respond as soon as we can.
Paperboard Dualpak Small Deep Square Beige - Confoil.

Top out - 116 x 116 mm
Top in - 100 x 100 mm
Base - 70 x 70 mm
Height - 44 mm
Capacity - 295 ml


Perfect for preparing, displaying, storing & cooking prepared meals in. The Dualpak tray is the go-to choice for many manufacturers due to its practical qualities and is able to be custom branded.

Made from pressed paperboard with a PET lining. The PET lining can be removed from the paper-board with both the PET lining and the paper-board tray proceeding through the standard recycling facility, making them a great, responsible choice.

Lid Compatibility
' Heat Sealable Designed to be used with heat sealing machinery and a compatible film lidding
' Clip-on Lids Available with specific containers

Suited for
' Chilled Contents
' Microwavable
' Ovenable
' Frozen Contents
' Cook Directly In

Suits clear plastic clip on lid DP6180LPP

Delivery 2-4 days
Recyclable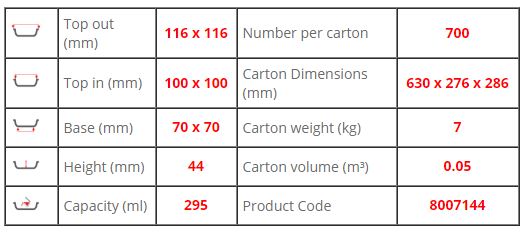 Contact Details
Request More Information
Details of the product above will be automatically included with your enquiry.