Smoothwall Inflight Tray - Confoil
We are open for business during Covid lockdown 4 as an essential service.
Place your order or send an enquiry and we will respond as soon as we can.
Smoothwall Inflight Tray - Confoil.

Top out - 159 x 103 mm
Top in - 147 x 91 mm
Base - 140 x 84 mm
Height - 30 mm
Capacity - 335 ml


A Heavy duty construction foil tray with the ability to seal ovenable films and extends shelf life using M.A.P. Suitable for grilling, ovenable and BBQ. Minimises handling of raw meat and poultry and does not soften at high oven/grill temperatures. Cost effective premium foil tray which does not shatter when frozen. Fully recyclable.

Delivery 2-4 days
Recyclable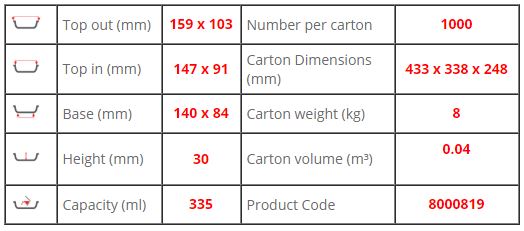 Contact Details
Request More Information
Details of the product above will be automatically included with your enquiry.