Sunscreen with Natural Insect Repellent 40+ 500ml - Sungard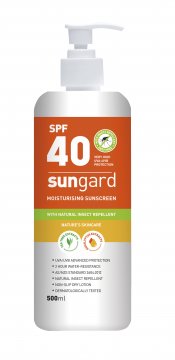 SunGard SPF 40 sunscreen with natural insect repellent 500ml pump bottle

Insect repellent protects against mosquitoes and helps repel sandflies and other annoying and biting disease-carrying insects.

-SPF40 UVA/UVB advanced broad-spectrum protection
-Laboratory tested to meet AS/NZS Standard 2604:2012
-2 hours water resistance
-Dermatologically tested for most skin types, free from Paraben and MIT
-Safe non-slip dry lotion, low irritant, sweat-resistant formulation
-Super-fast absorbing lotion, feels clean and weightless
-Tea Tree & Eucalyptus extracts to moisturise and condition the skin
-Laboratory tested to meet AS/NZS Standards 2604:2012
-Maunfactured & tested in New Zealand

500ml pump bottle

New Zealand has the world's highest incidence of melanoma cancer. Workplace skin protection is vital.

Safe for use by roofers! Sunscreens containing metal oxides, such as titanium dioxide and zinc oxide, can accelerate degradation of surfaces including auto finishes and pre- and post-painted roofing surfaces. A 2008 Australian test of ten sunscreens showed products containing titanium dioxide and zinc oxide nanoparticles consistently degraded samples of pre-painted roofing surface. In the worst case, the roofing lost over 85% of its gloss in just six weeks. New Zealand Steel now excludes from its warranties damage to Coloursteel® roofing caused by contact with sunscreen, and additionally recommends that roofers use cut resistant gloves to improve safety and avoid sunscreen contact.

SunGard's formulation gives exceptional protection but does not contain nanoparticles, titanium dioxide or zinc oxide.
Eco-Friendly