Double Sided PE Foam Hot Melt 2.0mm Tape 18mm - Pomona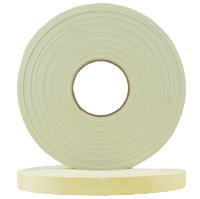 18mm x 25m = 13 Rolls/Carton
Description:
White PE foam (polyethylene) carrier, coated on both sides with a solvent acrylic adhesive. High initial tack and long term holding power with extra cushioning characteristics adheres well to most surfaces. White paper release liner.
Areas of use
Ideal for the display and sign industry attaching emblems and & sign material to plastic, metal & wood. Point of sale attachments to glossy as well as rougher surfaces. Also used for the structural long term attachment of mirrors, window bars, car mirrors, electrical conduits, bathroom and kitchen hooks and fittings. Good humidity resistance.
Regular