Double Sided White uPVC/Modified Acrylic Tape 36mm - Pomona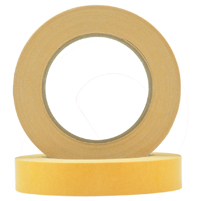 36mm x 25m = 24 Rolls/Carton, max width: 1250mm
Description:
This double-sided tape consists of a white pvc film carrier, layered on both sides with a modified acrylic adhesive. Very good resistance against uv radiation, chemicals, plasticizers, solvents and humidity. High shear resistant adhesive has excellent durability when attached to metal, varnish and high energy surfaces.
Areas of use:
Used for the attachment of trims, bars and laminates to a variety of surfaces. used for fixing of covers and handles in the audio, household appliance and electrical industry. Used for the secure attachment of truck and car mirrors in plastic housings. Used as an adhesive medium for signs as well as for extruded synthetic profiles and for durable installation in furniture industry.
Regular