Double Sided Clear PET/Solvent Acrylic Tape 48mm - Pomona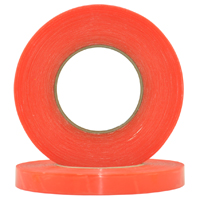 48mm x 50m = 5 Rolls/Carton, max width: 1250mm
Description:
Clear PET (polyester film) carrier, coated on both sides with a high performance modified solvent acrylic adhesive. It has a very good resistance against uv radiation, extreme temperatures, chemicals, solvents and humidity. It's highly shear' resistant adhesive has an excellent durability when attached to low energy surfaces. Because of its high adhesive mass it is also appropriate for rough or structured surfaces. Distinctive translucent red/salmon pink mopp release liner
Areas of use:
Used for the extension and splicing of paper, textile, plastic and metal films where high shear strength and adhesion are required. excellent for attaching pvc extrusions, furniture trim, nameplates and acrylic signs. Also used for the secure attachment of truck and car mirrors in plastic housings. Used as a self-adhesive medium for trims, covers and cable trunks. PET carrier is excellent for die cutting applications.
Regular