Double Sided Tissue Arylic Emulsion Tape 48mm - Pomona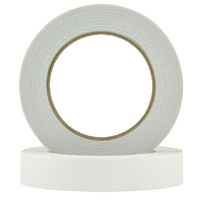 48mm x 33m = 24 Rolls/Carton, max width: 1250mm
Description: This double-sided tape consists of hand tearable paper tissue carrier, layered on both sides with an acrylic adhesive. It has good initial tack and good shear resistant adhesive providing durability when attached to metal, varnish and high energy surfaces. The adhesive is lined with an easy to remove double sided silicone paper. Non yellowing ph neutral adhesive ideal for paper, photos and scrapbooking.
Areas of use:
Used for the economic attachment of all types of materials to various surfaces. Ideal for boards, signs, ideal for paper, photos, scrapbooking, decorations, splicing, front plates and displays where good shear strength, strong adhesion and some temperature resistance is required. It has a high initial adhesion when attached to smooth or lightly textured surfaces. Excellent for general foam lamination and fixing.
Regular