Hand Sanitiser Alcohol Free Carton 6x250ml - Clini-X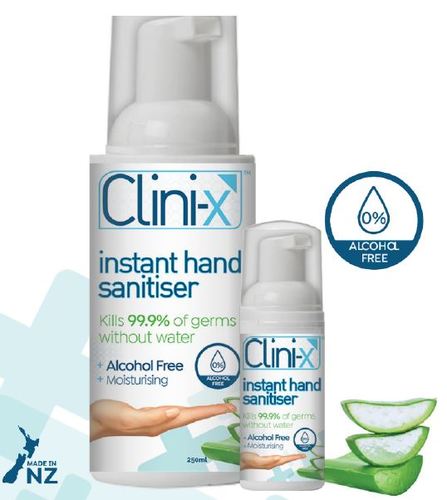 Clini-X instant hand sanitiser. Kills 99.9% of germs without water.
- Alcohol Free
- Foaming Action
- Moisturising Organic Aloe Vera

An effective way to reduce the transmission of infection without the need for soap, water and towels. Kills germs fast, leaving your hands germ free and moisurising. Air dries within seconds, no rinse required.

Independently tested by the largest European Independent Laboratory (Eurofins Laboratories) to be effective to kill germs as an Antibacterial.

Directions: Read label before use. Wash prior if hands need cleaning. Apply on hands and allow to dry.

Active ingredient: Filtered New Zealand Water, Benzalkonium Chloride, Organic Aloe Vera.

Carton 6 x 250ml bottles.
Eco-Friendly