7" Enviroboard' Biodegradable Round Side Plates - Castaway
Please note that due to high volumes couriers are taking longer than usual to deliver.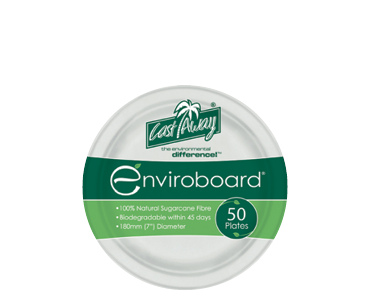 Enviroboard' Side Plates, Small Round
100% natural sugarcane fibre
Round, Natural

Size: 7 inches / 180 x 180 x 17 mm
Qty: 50 per sleeve / 500 per carton

The Enviroboard' range offers a biodegradable solution for your catering and take-away requirements.
It's made with 100% natural sugarcane fibre to create a product that benefits from a cleaner life cycle. The use of sugarcane as a renewable resource, and the ability to biodegrade, offers an attractive solution for any business looking to reduce their environmental impact.
When disposed of in a moisture-rich environment such as a landfill, Enviroboard' food clams can biodegrade within 45 days. All food clams are individually barcoded and sleeved to ensure food safety and hygiene.

*Biodegradable within 45 days
*Freezer safe
*Made from 100% renewable sugar cane fibre
*Microwavable
*Oven safe up to 150'c
*Recyclable
Contact Details
Request More Information
Details of the product above will be automatically included with your enquiry.